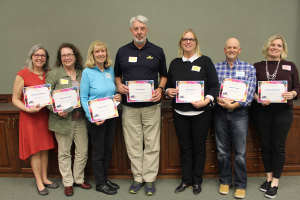 The Legacy Center is looking for extra-special people to support our organization through volunteering. We offer a variety of volunteer opportunities – from one-day projects that are perfect for high school students to longer-term efforts that change the lives of our local youth.
Tutoring Opportunities
All tutors must have a high school diploma (or equivalent) and commit to meeting one learner one-on-one 2 hours per week for 1 year. Tutors must complete our Tutor Training Workshop.
Reading Tutor – This volunteer opportunity supports the Barton Program. Volunteers work one-on-one with one youth to help them read better. This program uses highly structured and scripted phonics. Contact Kristi at kkline@tlc4cs.org or call (989) 496-1425.
Adult Reading Tutor – The Legacy Center also needs volunteer tutors to support our Adult Basic Education and English as a Second Language programs. Working one-on-one with adults, our tutors provide the opportunity for these individuals to improve their reading and language skills, qualify for job training, and achieve their goals. Contact Jennifer at jmajorana@tlc4cs.org or call (989) 496-1425.
Math Tutor – Math is foundational to progress in education but also presents a significant challenge to many people. This volunteer opportunity supports youth struggling in math classes, adults studying for the math portion of the GED, and those trying to obtain or retain employment. Prospective volunteers should have a strong grasp of mathematical principles and the ability to explain them. Contact Jennifer at jmajorana@tlc4cs.org or call (989) 496-1425.
Other Opportunities
Materials Support Volunteer – Today, we have more than 150 students enrolled in our literacy programs. With a record-breaking number of students, our staff is finding it difficult to keep our shelves stocked with program materials. We need individuals who are interested in volunteering a few hours per week to make copies of our curriculum. Contact Kristi at kkline@tlc4cs.org or call (989) 496-1425.
Coalition Volunteer Member – The Legacy Center oversees the efforts of the Community Alliance 4 Youth Success, a coalition that works to build developmental assets, reduce harmful substance use and other risk-taking behaviors, and improve the health and education outcomes of Midland County Youth. This group of diverse community volunteers meets every month to discuss drug-use trends and activities that will advance our community prevention objectives. Contact Angela Johnson at ajohnson@tlc4cs.org or 989.496.1425 X 104.