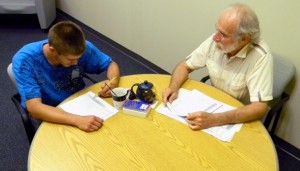 The Legacy Center Workforce Literacy program helps adults build the reading, writing and math skills they need to further their education or feel more comfortable in the workplace.
Learners are tutored in a one-on-one or in a small group setting and learn at their own pace. On average, learners meet with tutors for two hours per week for a minimum of 20 weeks. All of our services are free and completely confidential.
Some of the reasons people join our program include:
improving their skills before attending training for a GED or high school diploma
improving their skills to qualify for further training
fulfilling a lifelong dream of learning how to read
obtaining a better job
gaining the ability to fill out a job application
helping a child with homework
obtaining a driver's license
improving spelling skills
It isn't too late to improve your skills and increase your confidence. Call Jennifer at (989) 496-1425 for more information.