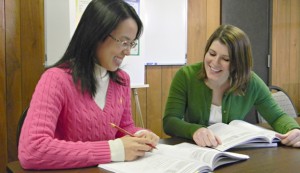 English as a Second Language program (ESL) provides English language instruction for those whose spoken language is not English.
An ESL tutor helps the learner bring their English speaking level up to meet the needs of everyday life and helps the learner to become fully engaged in life in their new country.
ESL learners have gone on to do great things for themselves and their famlies such as:
Gain confidence and skills to function and thrive in their new environment
Become more involved with their children's education
Gain employment
Attend college
Provide for their own needs and those of their family
Gain U.S. citizenship
This program is beneficial for speakers of languages other than English. The learner must be functioning at or below the 9th grade level to qualify to receive our services. Sessions are offered in the forms of one-on-one tutoring and small class learning.