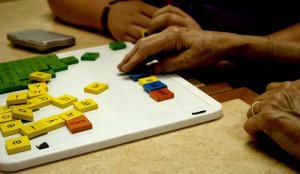 Over the past 10 years, our volunteer tutors have helped hundreds of struggling readers unlock the reading code.  We have helped the second grader catch up to grade level, the sophomore improve their reading skills enough to pass a college entrance exam, and the new parent learn to read to their child.
Our students receive one-on-one tutoring, twice a week, using the Barton Reading and Spelling System.  This program meets all the criteria for a reading intervention program as defined by the No Child Left Behind Act.  Barton is an intensive program that starts by building phonemic awareness and continues on with reading and spelling skills.  It uses a multi-sensory approach so learners don't just read or see the materials. They also use their sense of touch and hearing to learn.  The Barton Reading and Spelling System gives our dyslexic students and struggling readers the best chance of success.
A few years ago, we asked a few of our student learners to participate in a video to share how tutoring at The Legacy Center helped them improve their literacy skills.
New students or tutors are always welcome.  Contact Kristi Kline to learn more about how the Barton Reading and Spelling System can help improve your literacy skills.